Navya Singh
---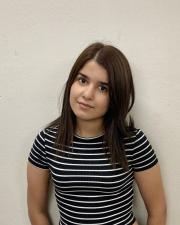 Contact Info
Center for Sexuality & Gender Diversity, Kansas Union #435
1301 Jayhawk Boulevard
Lawrence, KS 66045
---
Biography
—
Navya Singh (she/her) currently serves as a Student Ambassador for the Center for Sexuality and Gender Diversity at KU. She is also an undergraduate student in the College of Liberal Arts and Sciences at The University of Kansas, where she is a Molecular, Cellular, and Developmental Biology major on the Pre-Medicine track, (and a certificate student for Study Abroad and Global Engagement and the Center for Service Learning). Navya is also a student in the University Honors program, the director of volunteering for the Honors Community Advocates, and a freshman representative for the Association of Indian Students.
Before coming to the University of Kansas as an international student in Fall 2020, Navya grew up in Chandigarh, India, where she received her High School Diploma at Ryan International School, Chandigarh. She also had the great opportunity to receive the SAT India Top Performer Award for one of the highest SAT scores in India.
When she isn't studying, working, or procrastinating, you can find her hanging out with her friends on Mass street, running, or reading sci-fi. Navya loves traveling, learning about new cultures, and meeting new people from diverse backgrounds.
Education
—
B.S. in Molecular, Cellular, and Developmental Biology (Expected 2024), University of Kansas, Lawrence, KS
High School Diploma, Ryan International School, 2020