Ash Wilson
---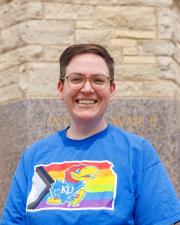 Contact Info
Kansas Union - Office 426
Lawrence
1301 Jayhawk Blvd.
Lawrence, KS 66045
---
Biography
—
Ash is originally from upstate NY in a town with more cows than people. After graduating highschool, they attended Jefferson Community College where they earned an Associate's degree in Liberal Arts. Ash then transferred to SUNY Potsdam where they earned a Bachelor's in Secondary Education with a concentration in Social Studies, as well as a History degree. While at Postdam, they became involved in various student activities including residence life and student government. Ash then attended Radford University where they began a Master's program in Special Education. While in Virginia, they found the field of Student Affairs and later earned a Master's in Student Affairs in Higher Education from Miami University in Ohio. 
After they graduated with their Master's degree, Ash worked at the University of Wisconsin - La Crosse for three years in Residential Life, one year at The University of Minnesota - Twin Cities, and came to KU in 2017. Before coming to SGD, Ash worked in Student Housing for 4.5 years. While at KU, Ash also earned a Graduate Certificate in Women, Gender, and Sexuality studies. 
Throughout their career, Ash has taught a variety of courses, most recently within the LDST program.
When not working at KU, Ash works for the Suicide Prevention Headquarters of Kansas, and spends time with their family in Lawrence. 
Education
—
M.S. in Student Affairs in Higher Education , Miami University, Oxford, OH